Themed Dinners
Christmas at the King's Head Inn Restaurant
Joy to the World! It's Christmas time at Kings Landing and the King's Head Inn is bustling once more. The Inn is all dressed with evergreen boughs, garlands, pomander balls, ribbons and strings of popcorn and cranberries for Christmas Dinners by candlelight! Upon arrival, an innkeeper will guide you by candlelight through the snow and to the magical warmth of the Inn, where you will be met with a burst of Christmas music in the pub or by the fireplace in the Simeon Jones room, to get you in the spirit before the call to dine. After your meal, enjoy complimentary treats of port, walnut toffee and gingerbread men. See why tens of thousands of people have taken in this tradition and made it their own.
It's now time to book your party's place at Christmas at the King's Head Inn! Spaces fill up quickly, so don't delay. The following dates are open for a 7:00 pm seating: December 4, 5, 11 and 13.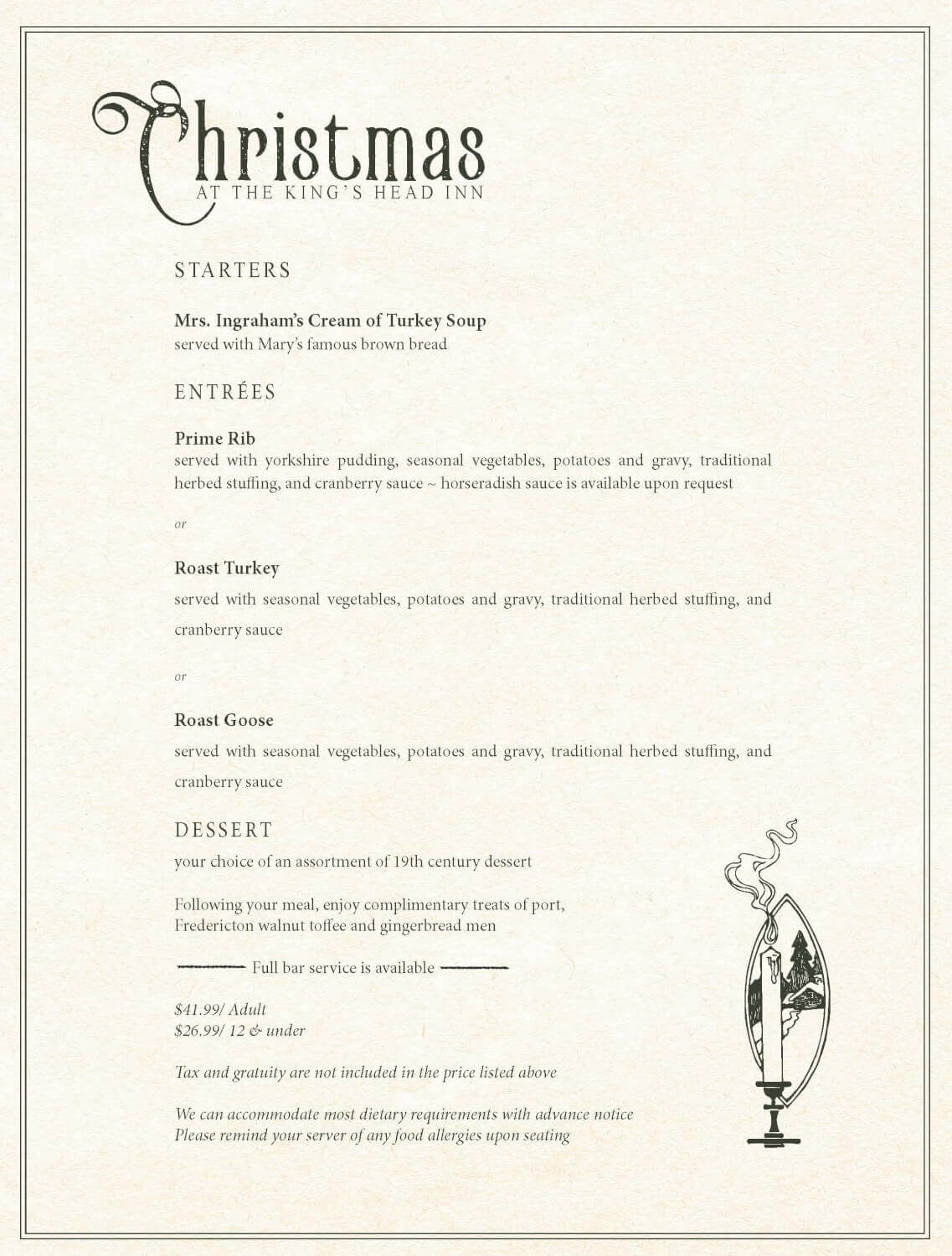 How to Book
Reservations can be made by emailing reservations.kl@gnb.ca or by calling our reservation line at (506) 363-4968. Emails and voicemails will be responded to in order received, Monday – Friday from 8:30 am – 4:30 pm.
Please be prepared to provide the following information:
Name
Phone number
# of people in your party:
Preferred Date for Dinner:
Entrées of choice: Prime Rib, Roast Turkey, or Roast Goose
Credit Card #: Mastercard, Visa, or American Express
Name on card:
3-digit security code
Special request seating: wheelchair, high chair, or seating with friends booking under another name
Dietary restrictions
---
Thanksgiving at the King's Head Inn Restaurant
During the Harvest season, we offer our immensely popular Thanksgiving dining programs with farm fresh ingredients, time-honoured recipes and a sense of history unique to New Brunswick. Gather your friends and family, and join us for an unforgettable dining experience. We will begin taking reservations in August 2018. Stay tuned for details.