Victorian Thanksgiving
Made with farm-fresh ingredients, time-honoured recipes and a sense of history unique to New Brunswick, Kings Landing's Thanksgiving Dinners are back for 2020. Gather your friends and family and come to Kings Landing for an unforgettable dining experience.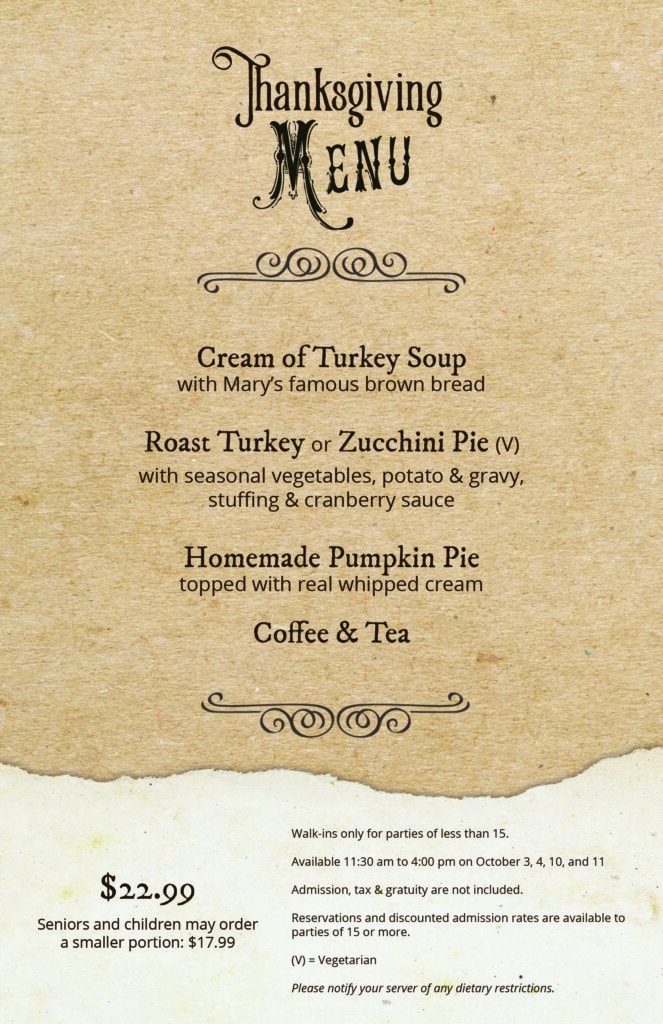 The dining rooms have been set up to accommodate physical distancing between parties. To maximize seating, dinners will be served from 11:30 am to 4:00 pm for walk-ins of parties of 14 or less, with the last dinners served at 4:00 pm. Reservations are only accepted for parties of 15 or more and do not include admission to Kings Landing, and admission is required to enter the site. To see our admission rates, including season pass rates, click here.
Parties of 15 or more must make a reservation; will be offered the group admission rate of $12.17 per person, in addition to the cost of dinner; and, will receive a private room for dinner.
Dinner is $22.99 per person. Seniors and children may order a smaller portion for $17.99.
To make a group reservation, please have the following information ready and leave a message on the reservation line by calling (506) 363-4968 or by emailing reservations.kl@gnb.ca. A member of our team will confirm your booking within 3 business days. Office hours are Monday – Friday, 8:30 am – 4:30 pm.
Name
Phone number
# of people in your party:
Preferred Date for Dinner: October 3, 4, 10, or 11
Preferred Seating Time: 11:30 am – 4:00 pm
Credit Card #: Mastercard, Visa, or American Express
Name on card
Special request seating: wheelchair, high chair, or seating with friends booking under another name
Dietary restrictions
Notes:
Arrival:
All guests must enter Kings Landing through the Welcome Centre prior to arrival at the King's Head Inn Restaurant. It is recommended to arrive at least one hour prior to your reservation.
Kings Landing is open from 10 am to 5 pm and seating will be available for Thanksgiving Dinner from 11:30 am to 4:00 pm. The last wagon of the day will depart from the King's Head Inn at 5 pm and take guests directly to the Welcome Centre.
Guests who arrive at the King's Head Inn Restaurant prior to checking in at the Welcome Centre will be redirected to the Welcome Centre.
Billing:
A credit card is required to hold your reservation. Your card will not be charged unless a cancellation fee is applied.  Payment for meals is taken at the time of service.
If you've made a group reservation and your party size reduces to below 15 guests, your party will be charged for 15 meals. If taking advantage of the group admission rate, parties must pay for a minimum of 15 guests.
The King's Head Inn Restaurant requires a 48-hour cancellation notice for all themed dinners. If notice is not given within this time frame, a 50% fee will be applied to your credit card.
COVID-19 Protocols:
Masks are required for guests over 2 years of age who are medically able to wear them. They must be worn when inside buildings, on wagons or when physical distancing cannot be maintained. Guests may remove masks when seated at the King's Head Inn at their table but must put them back on when leaving their table.
For a complete description of Kings Landing's COVID-19 protocols, please click here.